---
Where:
Elizabeth Pole Elementary School
215 Harris St, Taunton, MA 02780
Click
<<HERE>>
---
---
Upcoming TYSL 2019 Events
Event

Description

Key Dates

Winter Clinic

6 week session open to all TYSL players and taught by Navigators Head Coach, Danny Borges.

* Registration: 20 Dec - 9 Jan

* Session: 12 Jan - 16 Feb

Spring Soccer

Travel Soccer available to players that are engaged in the Fall. Registration for interested players will now be available all year round.

* Signups available during Fall Soccer Registration

Developmental Academy League (DAL)

Program for players born in 2010, 2011, 2012, 2013, and 2014. This program is run by Danny Borges and will be at Myricks on Saturday mornings from 10 am-12 pm. Online registration will open in February and close in April.

Summer League

The summer league will be back and open to any age group. We will open registration on May and close in June. The summer program will run from 6/18 to 7/31.

Summer Clinics

In 2019, we will have 2 summer clinics: a skills clinic and a goalie clinic.

Fall League

Registration will be open starting in April. We will continue to have a North and South as in past years.

* Registration Opens 1 February

* Season begins 7 Sept.
---


Taunton Youth Soccer League (T.Y.S.L.) and the New England (N.E.) Navigators have developed an initial plan for helping children receive the best possible soccer experience.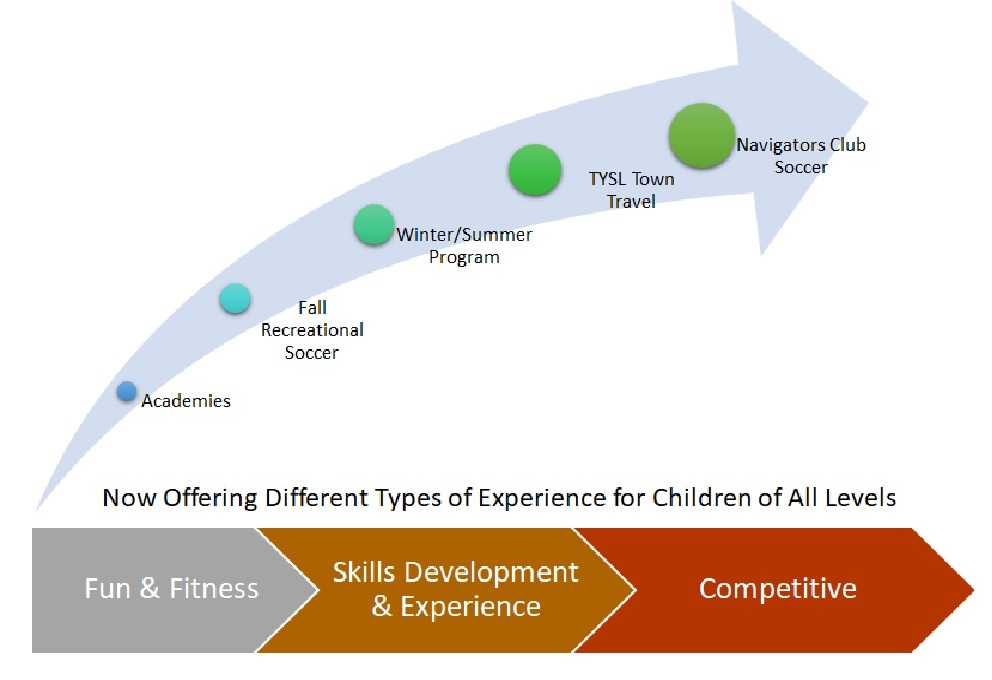 The new joint program offers a number of things not available at other clubs:
Community Environment to Play and Learn Together

Support and Training from Professionals in the Game

Opportunities to play Club and still play with close friends that just want to have fun

Pragmatic, cost sensitive approach
For more information about our upcoming programs, click here:
Taunton Youth Soccer Spring Tryouts (2019)

Summer Soccer (Registration closes June 2nd)

Fall Recreation

Summer Academies & Clinics
More about the types of experiences:
Club Level Soccer – this is for the player that is looking for and needs a higher level of player development, with a professional level of licensed coaching staff. The competition level is more challenging and requires a more dedicated approach to training and games. Club level soccer teams compete on a statewide level and compete to qualify for Regional and National Championships. The travel will usually vary from 20 minutes to an hour. Although costs for many Club programs can be quite high, thru the partnership with T.Y.S.L. and Navigators the cost is greatly reduced. Club soccer requires a commitment of both Fall and Spring play, and offers an optional winter program.
Spring Town Travel – this is for the player who excels in Fall Rec. and is looking for a more competitive environment against other towns in the South Coast area. The commitment level and expectations are more than you find in the Rec. program but remain reasonably flexible, with travel ranging from as close as the surrounding towns of Norton and Dighton, to as far away as Cape Cod and the Islands.
Fall Recreation Program – this is open to all levels of players from beginners, to more advanced players just looking to have fun with friends and classmates in a city wide competition. All games are played in Taunton. Players compete for the City championship, but the commitment and expectations are much more relaxed and are geared towards friendly competition among peers.